ARE YOU PACKED? YOU TOOK YOUR SHOTS? LET'S GO GHANA! AND THE BEST PART IS… YOU DO NOT NEED TO GET A PASSPORT!
Day 17– First date on the beach
As I ate my delicious breakfast with pancakes and chocolate spread, I opened up my emails and saw a reply from Hubert, the young man from my hotel where the first night I landed. I sent him an email yesterday to say that I was back in Accra and that I was going to the Labadi Beach today. I opened it with much anticipation to read his response. He asked if he could join me for the day. I had a big smile on my face and thought to myself it would be good to have some company. I responded giving him the time and where to meet.
It was getting late in the morning and decided to hop into the shower and get ready to go to the Artist Alliance Gallery for 12 pm and from there walk to the beach for 2pm to meet Hubert. I walked up to the busy main road to hail a taxi. I asked for the driver to stop off at the gallery but he said he did not know where it was. Armed with my map, I gave him directions and we got there within 20 minutes.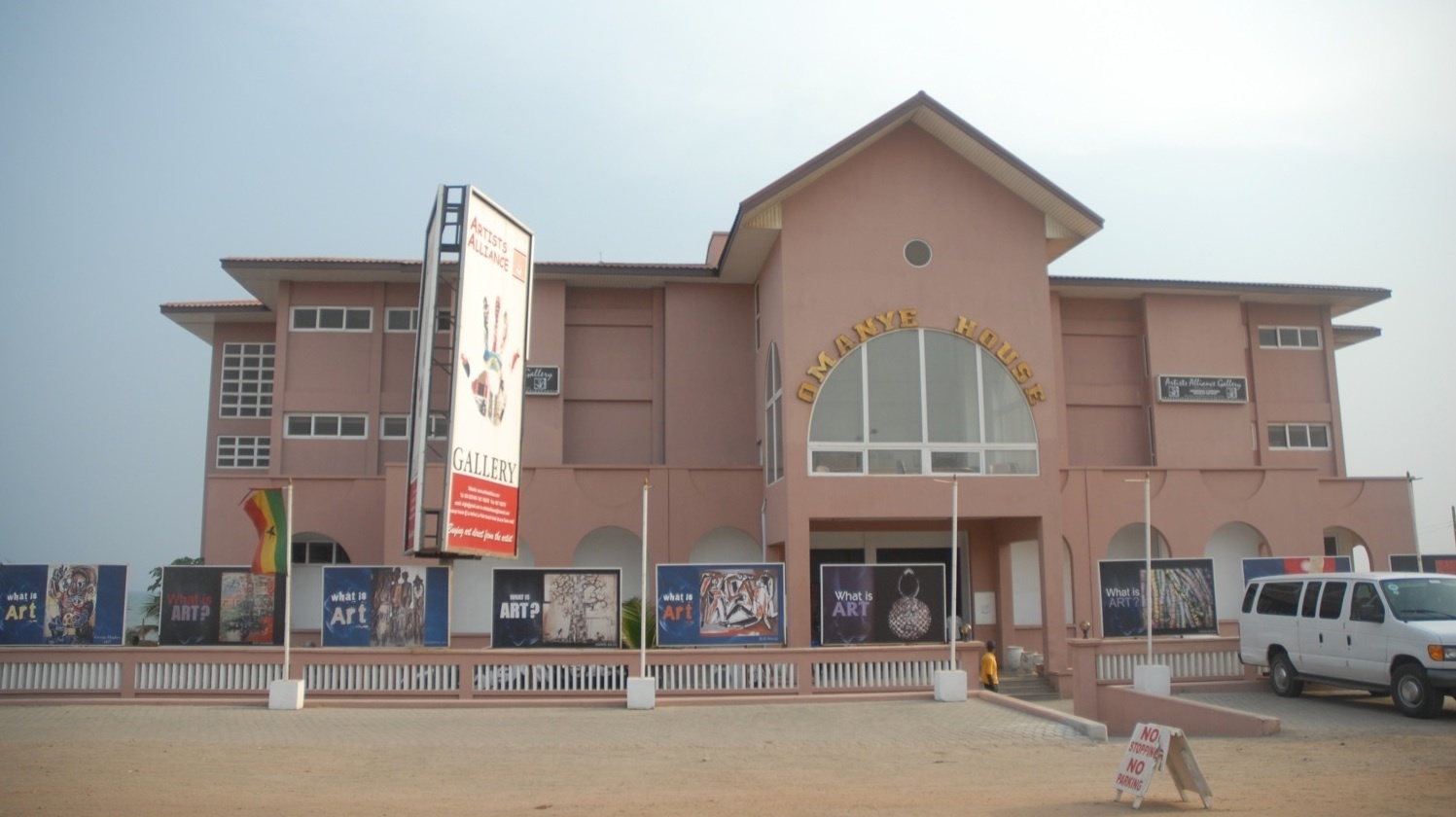 The gallery was big and already impressive! As soon as I stepped through the entrance, a lady greeted me and requested no photos (so I have none of my own to show you). I started on the first floor admiring iron and wooden sculptures of clean lines and curves making out figures in all shapes and sizes. There were oil and acrylic paintings from local and national artists portraying everyday life, Ghanian ancestral art, symbols, and abstract pieces. It was just so beautiful to witness the African creative spirit on full display. I was moved by a few pieces because of the expression of the brush strokes and the message of strength and unity amongst the African nation. I wandered through halls where they had antique masks, beaded jewellery, wooden idols, African printed bags, traditional dress for men and women; as well as hangings of traditional Kente weaving cloths. A pair of beaded earrings caught my eyes and purchased them to wear for the beach.
I climbed the stairs to the first floor. I could hear the crashing of the waves against the rocks and I felt the salty breeze on my skin. The views from the gallery were living art itself. I wondered through hallways crammed with contemporary art with mixed media, prints, and oil paintings. They also had ancient ancestral jewellery that had aged with the passing of time but preserved behind glass display cases. There was old money telling the history of the Ghanaian people and celebrations. It was so peaceful and awe-inspiring to be in the gallery. I wished I could have purchased some of my favourite pieces but it would have cost more than my visit to Ghana. I thanked the staff and left to meet Hubert.
I put on my beautiful technicolour handmade beaded earrings and walked along the road following the coast. Minibuses and taxis tooted at me to pick me up but I kept refusing as I knew it was not worth the hassle of paying so much to go down the road. The walk was not bad even in the heat because the ocean breeze kept me cool. I stopped a few metres away before reaching the beach for some ice cold water from a young woman selling at the traffic lights. Futher along I asked a woman with her baby tied to her back for confirmation that I was near. She said I was 5 minutes away.
When I arrived at the ticket office at the beach resort, I paid 5 cedis to get in. Within a few seconds, sellers were approaching me to appeal to me to buy from them. As I continued to head to the beach, I was met with golden sands and lapping waves (even though you could not help but notice there was a lot of rubbish being washed up onto the shore). Reggae music was playing, people were riding buggies and horses. It was quiet so I decided to take a walk before meeting Hubert. I got a lot of male attention from the sellers and locals. I declined numbers and turned down their company. As I was heading back to the office to wait for Hubert, an artist called Niles, 33, was walking around with his art and we struck up a conversation.
This slideshow requires JavaScript.
As I was heading back to the office to wait for Hubert, an artist called Niles was walking around with his art and we struck up a conversation. He was in his 30s, a Rastafarian and very attractive. I told him about my trip to the Artist Alliance Gallery and he invited me to his shop. I followed him to his shop where there were other artists and he revealed all of his paintings. I recognised his style and he confirmed that he had some of his work at the gallery. He told me it was hard being an artist and find it a struggle to sell his work but this was his dream. Naturally, he tried selling me some of his art but the prices were too high for my budget. I left and made my way to meet Hubert.
When I arrived at the meeting point, I could not see him. I was late and thought I would wait until half past two for him to show up. The men from the office got me a chair and I waited. Crowds of people and cars passed me by but no Hubert. As I was asking for the time to see if I should return to the beach, a smiling familiar face approached me. He walked up to me with such warmth and gave me a hug. He took my hand and lead me down the shore to wet our toes in the warm water.
We spoke about ourselves, family, professions, politics, books, dreams and desires for the future. I felt so safe around him. He had this calming presence about him and there were sparks flying! A few people commented that we were a beautiful couple. I guess people assumed that we were together by the way we were with each other. He was romantic and a gentleman. This encounter was unexpected but welcomed. When he gave me his number I thought maybe he wanted me to use the hotel again and book with him but it turned out he wanted to get to know me. And I wanted to know him too.
Hand in hand we continued our walk, glancing at each other and sharing smiles as well as stories. A bracelet vendor approached us and spoke to us in Twi. Hubert selected coconut shell in turquoise (incidentally my favourite colour and birthstone). I was astonished and told him it was beautiful. He smiled and paid the man before we proceeded to sit down at his favourite restaurant. We had an ocean view.
I was soaking the moments we had together as the sun started to set. A waitress came out and presented us with an ice bucket loaded with drinks along with a big platter of fried yam chips and fried chicken pieces. We ate, talked, drank and sang along to all the reggae live bands that came to entertain us. We had so much in common even taste in music. After he serenaded me with a few love songs, I lay on his chest and we watched the waves roll in as the sky turned from salmon pink to black with a few twinkling stars. Our silence spoke of our familiarity like we had known each other from another lifetime. He wrapped his arms around me and we kissed. It was electric and so sweet like honeysuckle dew trickling into the longing lips pressed against the flower to taste its goodness. Time had stopped and we were no longer strangers but young lovers.
We took one last toe dip in the waters before we walked to his car and he drove me home. We kissed goodnight. We both wished it was already Monday so we could see each other again. My feet floated me to my bed after a shower and a quick video call to my friend Sophie giving her full details of my day. That night, I slept with my coconut shell on my wrist where he placed it.
Stay tuned for my last week in Accra for more good times and adventures in the motherland.
Thank you,
Dionne